The home of the 2017 Youth Parapan Games, the Brazilian Paralympic Training Centre in São Paulo, was full to the brim throughout the entire competition. Over six days, fans packed the stands and cheered on the teams from the 19 participant countries. More than 50 schools came to the Training Centre to watch the games.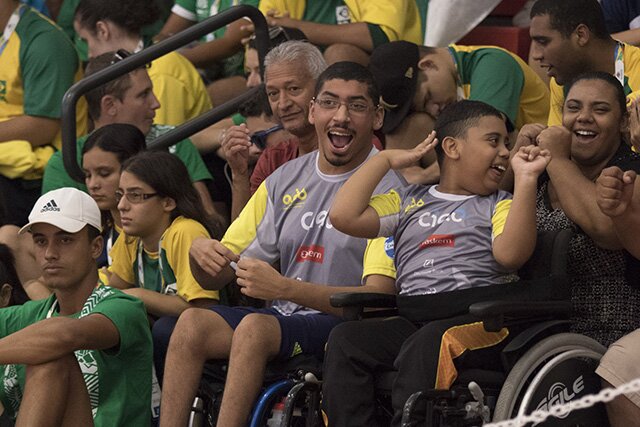 Many visitors were watching adapted sports for the first time, as was the case of 10-year-old Nicole, who had never seen a wheelchair basketball match. Pedro, also cheering on Brazil, understands the sport well – he has been playing basketball for two years. His mother, Regiane, took photos of her son and said that his favorite pastime is practicing basketball. Paulo, a volunteer from the São Paulo Sports Department who worked at the Games, brought his wife and children to spend the day at the Centre and summed up his time participating in the Youth Parapan as a great learning experience.
At the Football 7-a-side final between Argentina and Brazil, there were many supporters who knew the sport well. Henrique took part in the 2015 Schools' Paralympics and watched the game alongside his parents. "It was great to play here last year, the structure is really good. When I see them playing I miss doing it myself", he said.
As Argentina and Brazil battled it out for the Football 7-a-side gold medal, Brazil and Mexico played the final of wheelchair basketball in front of a packed crowd. Felipe danced along with the music and the dance routines of the volunteers during half time. He has played boccia at the Sporting Association for Disabled Athletes (ADD) for one year. His parents, Killiam and Fernanda, said that adapted sport is a new world for them and watching the Youth Parapan was a new and interesting experience, not just for them, but also for their son.
The 2017 Youth Parapan captivated new fans and attracted those who already follow Paralympic sport to the stands, courts and the Paralympic Movement. The fans congratulated the organization of the event and the structure of the Brazilian Paralympic Centre, which will continue hosting competitions throughout the year.